Welcome to Valle Tours
The diverse countryside of Abruzzo includes all types of terrain, making for some spectacular scenery. This scenery includes the towering Gran Sasso (highest peak in the Apennines) in the west, the rolling hills filled with olive orchards, world class wineries and the fabulous beaches of the Adriatic Riviera. Within this region lies many wonderful destinations to explore.
A visit showcases not only the natural beauty of the area, but, the many hidden charms most tourist never get to experience. This is genuine Italy, without the lineups or high price tags. We are very proud of what we offer. You will be amazed by the hill top towns, the architecture, the ancient fortresses, museums, local artisans (ceramics etc.), Roman and pagan ruins and best of all the scenery of the Monti della Laga National Park.
Delicious local cuisine and a fabulous assortment of local wines await you. We can provide a list of some of our favourite restaurants and wineries. You may also want to partake in a cooking lesson with a local. The accomodation we provide are attractive, clean and comfortable, with everything you require for your stay. Whether your stay is for one week or one month, this will be a most memorable vacation.
Email Us for a list of Cycling or Driving Itineraries.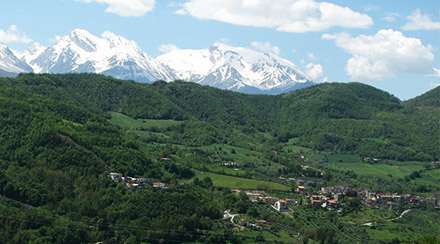 Your home base for these tours is Valle San Giovanni, a village with a population of approximately 400, located in Italy's central province of Abruzzo.
Valle is at the base of the Apennine Mountains, 2 hours east of Rome and 30 minutes from the Adriatic Sea. Olive groves, vineyards, sunflowers and picturesque hills of patchwork crops surround the village, typical of old Italy. Bread arrives daily and fish is delivered on Thursday. Amenities include a small grocery (great deli), post office, hardware store, hairdresser and Italian style bar/café. Daily life is evident and interactions with the locals unavoidable. Beautiful countryside and friendly locals await you.
This is a genuine Italian experience!

  I just wanted to say, again, what a fantastic holiday we had staying in Valle.
Such an experience and great riding to boot. Looking forward to our next ride.
-Phil, Yvonne and Peggy, Washington Randonneurs (Bellingham, Washington)